In the homes of writers: literature, collectionism and décor
€ 3.00
Friday 22 May 2015
7:00 pm
In the 18th century, intellectual life was lived in salons and cafes, but after the French Revolution and the dawn of the mass society, intellectuals shut themselves off from the outside world, surrounding themselves with evocative and collectible objects, which became the prisms through which they viewed themselves and the world. The home was transformed into a book. In order to better observe their epoch, writers turned their back on it, so as not to be blinded by the glare of progress. Authors' eccentric collections removed the basic values from objects, saving them in an arc-refuge and infusing them with different values.
In his perennial seclusion, Balzac could not write without the furnishings he readily fell into debt to pay for. Pierre Loti took refuge in a fictitious East, Apollinaire dreamt of inflatable furniture and Jean Cocteau grappled with the use of space. As Robert Montesquiou would say, décor is a state of mind.
Video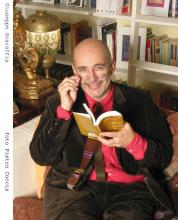 Giuseppe Scaraffia has been teaching French Literature at La Sapienza University in Rome since 1976. He writes for the Sunday supplement of Il Sole 24 Ore as well as for magazine Sette. He and his partner Silvia Ronchey co-presented the RAI cultural programme L'altra edicola in the 1990s. In 2000, the French Ministry of Culture appointed him Chevalier de l'Ordre des Arts et des Lettres. In 2008 he won the special Grinzane-Beppe Fenoglio award for his book Cortigiane (2008). Scaraffia likes to dedicate himself seriously to frivolous things, and vice versa. His published novels and essays include Femme fatale (2009), Le torri d'avorio (Excelsior 1881, 2010), Le signore della notte. Storie di prostitute, artisti e scrittori (Mondadori, 2010), La donna fatale (Nuova cultura, 2011), Infanzia (2013), I piaceri dei grandi (Sellerio Editore Palermo, 2013) and Il romanzo della costa azzurra (Bompiani, 2013).
Giuseppe Scaraffia & i Dialoghi