8
Michela
Marzano
,
Caterina
Soffici
Equal but not too much: gender identities, gender differences
€ 3.00
Saturday 29 May 2010
3:30 pm
piazza dello Spirito Santo
1
All human beings are on a constant quest for their own identity. Habits, behaviors, rights, responsibilities, consumption patterns, culture and emotions all contribute to shaping our identities more than we imagine. Can one speak of 'gender identity' in our time? And how many genders are there? Beyond the traditional stereotypes of male and females, the two speakers will discuss how the very notion of female identity has changed in contemporary Italy. They will examine the changes that have taken place in traditional role models (mother and/or emancipated woman). In particular, they will address the impact on gender identity of some of the role models being conveyed by advertising and the media: from femme fatale to starlet, from 'Barbie-doll' political candidate to transgender.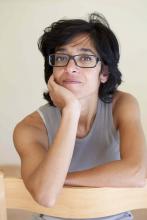 Michela Marzano (1970) completed her studies at the Scuola Normale Superiore di Pisa and obtained a PhD in Philosophical research. She is professor of Moral Philosophy at the Université Paris Descartes and served as head of the social sciences department at the same university. She is a columnist for the newspaper la Repubblica and author of a number of books that have been translated into many languages, including Straniero nel corpo (Giuffrè, 2004); Estensione del dominio della manipolazione (Mondadori, 2009); Sii bella e stai zitta. Perché l'Italia di oggi offende le donne (Mondadori, 2010); La filosofia del corpo (Il Melangolo, 2010); Etica oggi. Fecondazione eterologa, "guerra giusta", nuova morale sessuale e altre questioni contemporanee (Erickson, 2011); Volevo essere una farfalla (Mondadori, 2011); L'amore è tutto: è tutto ciò che so dell'amore (UTET, 2013, Bancarella prize), Papà, mamma e gender (UTET, 2015); and L'amore che mi resta (Einaudi, 2017).
Michela Marzano & i Dialoghi
Caterina Soffici (1965) is an Italian journalist. She has worked at the newsdailies Paese Sera, la Repubblica, Italia Oggi, and l'Indipendente. She managed the culture section of il Giornale for 10 years up to 2008. She has also written radio and tv programs for RAI channels 2 and 3. She now contributes articles on social and cultural affairs to il Riformista and Vanity Fair. Her book, Ma le donne no, was published by Feltrinelli in 2010.
Caterina Soffici & i Dialoghi