12
Emanuele
Trevi
with
Fabrizio
Gifuni
Tales of the 'other': Joseph Conrad
€ 3.00
Saturday 29 May 2010
9:00 pm
All Joseph Conrad's works are brimming with powerful symbols of otherness. And if it is fair to say that all men are equal when they face the ultimate questions, nonetheless within each single individual - within each 'other'- there is a boundary beyond which everything is unpredictable, where darkness as thick as that of tropical forests engulfs the light of reason and the demands of civilization. In its innermost essence, therefore, Conrad's work is a superb gallery of individuals depicted in their uniqueness. The encounter of different ethnicities and cultures may generate wonderful paradoxes, as in the 1897 story entitled Karain, where whites end up behaving like sorcerers whereas the proud Asian pirate - a sort of Sandokan withot a Yanez - suffers from the most Western and bourgeois of all ailments: depression. Readings from J. Conrad by Fabrizio Gifuni will be commented by Emanuele Trevi.
Emanuele Trevi, a writer and literary critic, has translated and curated Italian and French classics and works with the Corriere della Sera newspaper. His books include: Istruzioni per l'uso del lupo (Castelvecchi, 1994); Invasioni controllate (with Mario Trevi, Castelvecchi 2007); Il libro della gioia perpetua (Rizzoli, 2010); Qualcosa di scritto (Ponte alle Grazie, 2012); Senza verso. (2004); L'onda del porto (Laterza, 2005); Il viaggio iniziatico (Laterza, 2013); I cani del nulla (Einaudi, 2003); and Il popolo di legno (Einaudi, 2015).
Emanuele Trevi & i Dialoghi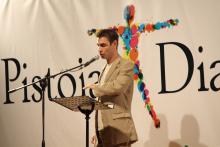 Fabrizio Gifuni is one of Italy's most established film and theatre actors. Creator and performer of numerous works for the theatre, including the award-winning project Gadda e Pasolini: antibiografia di una nazione, directed by Giuseppe Bertolucci (Ubu prizes in 2010 for Best Show and Best Actor). He recently played the lead in the Lehman Trilogy, the latest masterpiece by Luca Ronconi at the Piccolo Theatre in Milan and Freud o l'interpretazione dei sogni, directed by Federico Tiezzi. His screen work (film and television) counts almost 40 titles and he has collaborated with Gianni Amelio, Marco Tullio Giordana, Liliana Cavani, Edoardo Winspeare, Paolo Virzì and Marco Bellocchio among others. His most significant awards include: the EFP Shooting Star at the Berlin Film Festival; a Golden Globe from the foreign press in Italy (2002); Silver Ribbons (2003, 2014); the Gianmaria Volonté Prize (2012); a David di Donatello, the Vittorio Gassman Prize and the Napoli Prize for Italian culture and language (2014).
Fabrizio Gifuni & i Dialoghi